- Reliability
- Guaranteed Turnaround Time
- Dynamic Agent Screening Tools
- Dedicated Customer Service
- 94% Client Retention
- Confidentiality
Click to view more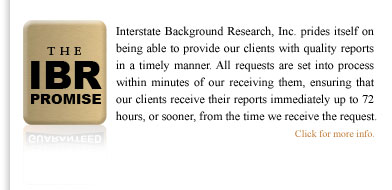 Our Guarantee
Interstate Background Research, Inc. prides itself on being able to provide our clients with quality

reports in a timely manner. All requests are set into process within minutes of our receiving them, ensuring that our clients receive their reports within 24 to 72 hours, or sooner, from the time we receive the request. Our clients are guaranteed to receive completed reports within this time frame, excepting reports which have extenuating circumstances beyond the control of Interstate Background Research, Inc.
Those circumstances are:
Acts of nature making it physically impossible to retrieve
the necessary information in that allocated time;


The discovery of a severe criminal charge against a
candidate, which would require additional research.

You will be notified at once, if this should occur;


Some State Police checks that may take as long as two or
more weeks, and;


Disciplinary actions and/or sanctions which may require a written

request for additional information via the U.S. Mail.


An employment or education verification that has been archived or
is waiting on a return phone call from a previous employer.

Interstate Background Research, Inc. will notify clients if any of the special situations, listed above, occur. We will then submit a report to expedite the appointment of that candidate, and follow up with a completed supplemental report upon receipt of the requested information.